Stonewall Kitchen : Mild Tomato Salsa
Coarsely chopped in the tradition of authentic Mexican salsas, this Stonewall Kitchen Mild Salsa is full of texture and overflowing with flavor. The tomato base is highlighted with bits of onions and peppers, a hint of cilantro and lime, then accented by a subtle jalapeno ending for an extra flavorful, yet mild-tasting salsa.
16 oz
Ingredients

Tomatoes (tomatoes, salt, citric acid), Onion, Green Bell Pepper, Garlic, Pure Cane Sugar, Cider Vinegar, Cilantro, Lime Juice Concentrate, Salt, Jalapenos
Non-Gluten Ingredients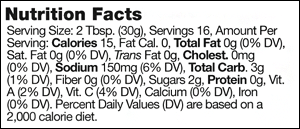 Due to the heavy weight of this item an additional $1.00 has been added to price to help cover additional shipping fees.