Stonewall Kitchen : Guacamole Starter
Holy guacamole, does this starter make a delicious dip! Featuring the mild, tart flavor of tomatillos, it also delivers a kick thanks to several fiery peppers, fragrant herbs and spices. Combine one jar with four creamy avocados to create an irresistibly zesty guac that's perfect with veggies, tacos and tortilla chips.
7.75 oz
Ingredients

Tomatillos, Green Chilies (green chili peppers, salt, citric acid), Onion, Red Jalapeños, Serrano Peppers, Jalapeños, Garlic, Cilantro, Lime Juice, Salt, Canola Oil, Spices
Non-Gluten Ingredients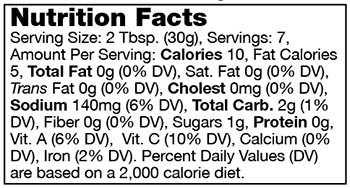 Due to the heavy weight of this item an additional $1.00 has been added to price to help cover additional shipping fees.