Stonewall Kitchen : Seedless Raspberry Jam
Few can resist the unique sweetness of red, ripe raspberries; so juicy and so full of flavor. Spread that great taste from breakfast to dessert with Stonewall Kitchen Seedless Raspberry Jam. Your sandwiches, scones, muffins, pound cake and more will come to life. Try mixing our seedless raspberry jam in dessert recipes or hot cereals and you just may create a new taste sensation.
12.5 oz
Ingredients
Pure Cane Sugar, Seedless Raspberry Puree, Fruit Pectin, Lemon Juice Concentrate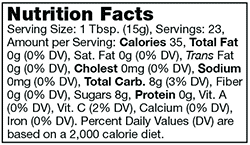 Due to the heavy weight of this item an additional $1.00 has been added to price to help cover additional shipping fees.