Stonewall Kitchen : Raspberry Peach Champagne Jam
Stonewall Kitchen combines sweet peaches, refreshing raspberries, add a little champagne and POP! - a perfectly vibrant, sweet tasting jam to liven up your mornings. Filled to the brim with fruit and other natural ingredients, this jam adds a sophisticated twist to your table. Share it with a friend over morning coffee and enjoy your day ahead.
12.5 oz
Ingredients

Fruit (raspberries, peaches), Pure Cane Sugar, Champagne, Lemon Juice, Fruit Pectin, Citric Acid, Spices
Non-Gluten Ingredients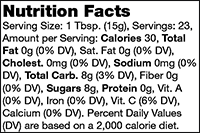 Due to the heavy weight of this item an additional $1.00 has been added to price to help cover additional shipping fees.