Stonewall Kitchen : Balsamic Fig Dressing
The mellow tang of rich balsamic vinegar blends wonderfully with sweet, mysterious and delicious ripe figs for a perfectly robust dressing. Experiment and try it as a marinade for a fabulous meal or add it to a baby spinach salad garnished with poached pears, dried cranberries, blue cheese and toasted pecans. The possibilities are delicious!
11 oz
Ingredients
Balsamic Vinegar (sulfur dioxide), Sugar, Water, Canola Oil, Fig Paste with Fig Concentrate, Orange Juice Concentrate, Salt, Dried Onion, Black Pepper, Vanilla Extract, Xanthan Gum.
Non-Gluten Ingredients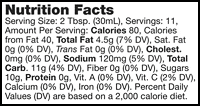 Due to the heavy weight of this item an additional $1.00 has been added to price to help cover additional shipping fees.