Stonewall Kitchen : Black Raspberry Jam
This Stonewall Kitchen Black Raspberry Jam is a truly exceptional jam bursting with the juicy flavor of ripened black raspberries. Spoon black raspberry jam onto toast, scones or your favorite breakfast breads. Use as a perfect complement to roasted chicken or pork.
12.5 oz
Ingredients

Black Raspberries, Pure Cane Sugar, Fruit Pectin, Lemon Juice, Citric Acid
Non-Gluten Ingredients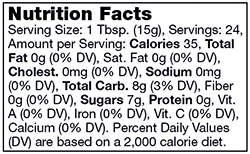 Due to the heavy weight of this item an additional $1.00 has been added to price to help cover additional shipping fees.