Stonewall Kitchen : Dark Chocolate Sea Salt Caramel Sauce
Artfully crafted, the unexpected combination of savory and sweet is perfect alone, with ice cream or on pieces of fruit. Try adding some Dark Chocolate Sea Salt Caramel Sauce to your brownie mix for extra moist and chocolaty experience! It's just simply delicious!
12.5 oz
Ingredients

Heavy Cream (milk), Pure Cane Sugar, *Corn Syrup, Chocolate Liquor, Cocoa Powder, Glycerine, Unrefined Sea Salt, Caramelized Sugar Syrup, Pure Vanilla Extract, Lecithin (soy), Carrageenan (carrageenan, maltodextrin) *Contains Corn Produced with Genetic Engineering

Allergens

MILK
SOY

Non-Gluten Ingredients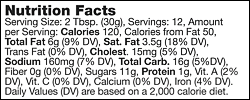 Due to the heavy weight of this item an additional $1.00 has been added to price to help cover additional shipping fees.