Stonewall Kitchen : Old Farmhouse Chutney
Original price
$9.99
-
Original price
$9.99
The combination of apples, cranberries, peaches, apricots, and raisins are mixed with a variety of spices for an explosion of flavor. This chutney can be used in many delicious ways with meats, fish, curried dishes or mixed into rice or couscous. Try it with cheeses or as a sandwich spread.
8.5 oz
Ingredients

Apples, Sugar, Brown Sugar, Onions, Cranberries, Peaches, Cider Vinegar, Apricots, Raisins, Ginger Root, Roasted Garlic, Balsamic Vinegar, Mustard Seeds, Canola Oil, Lemon Juice Concentrate, Spices, Xanthan Gum, Curry Powder, Citric Acid, Ancho Chili Pepper, Chili Powder.
Non-Gluten Ingredients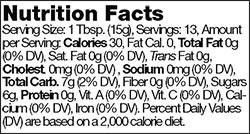 Due to the heavy weight of this item an additional $1.00 has been added to price to help cover additional shipping fees.