Stonewall Kitchen : Roasted Garlic Oil
Add deeper flavor to any dish with this very tasty Stonewall Kitchen Roasted Garlic Oil. It's delicious and satisfying with a robust garlic taste that's simple to use and handy to have on hand whenever culinary inspiration strikes.
8 oz
Ingredients
Pure Olive Oil, Canola Oil, Garlic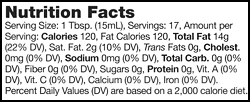 Due to the heavy weight of this item an additional $1.00 has been added to price to help cover additional shipping fees.