Stonewall Kitchen : Strawberry Apple Rhubarb Jam
This Strawberry Apple Rhubarb Jam is a taste of a New England fruit harvest at its best. Featuring an exquisite combination of sweet and tart flavors, you'll love spreading it on your morning muffins, scones and toast. Perk up your lunch menu with a cream cheese and Strawberry Apple Rhubarb Jam sandwich. Surprise someone by adding a dollop to a bowl of oatmeal or make a simple dessert using pound cake, Strawberry Apple Rhubarb Jam, and some whip cream. The possibilities are endless!
12.5 oz
Ingredients

Fruit (strawberries, apples, rhubarb), Pure Cane Sugar, Fruit Pectin, Citric Acid, Lemon Juice, Tricalcium Citrate, Spices
Non-Gluten Ingredients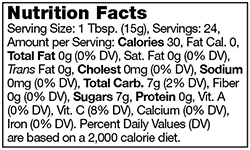 Due to the heavy weight of this item an additional $1.00 has been added to price to help cover additional shipping fees.