Stonewall Kitchen : Wild Maine Blueberry Jam
Just sweet, intensely flavorful wild Maine blueberries, the right amount of sugar and a splash of lemon is what Stonewall Kitchen uses in their crafted, top selling Wild Maine Blueberry Jam. Bursting with tiny, hand-raked Maine blueberries to enhance your favorite morning bread. Perfect to spread on pancakes, enjoy an extra special PB&J, or surprise someone with breakfast in bed!
Ingredients
Wild Maine Blueberries, Pure Cane Sugar, Fruit Pectin, Lemon Juice, Citric Acid.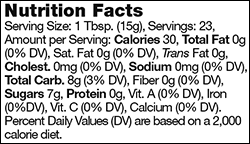 Due to the heavy weight of this item an additional $1.00 has been added to price to help cover additional shipping fees.